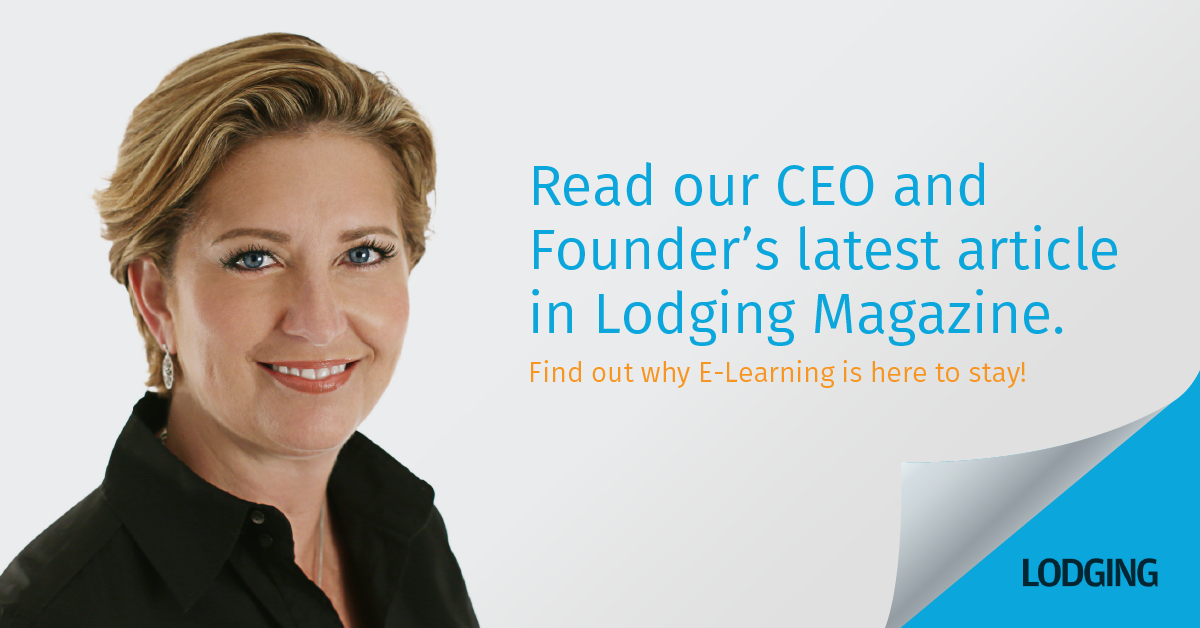 Read CEO and Founder's latest article in Lodging Magazine.
E-learning is not a fad. In fact, it's one of the fastest growing markets with expected revenues of $65.41 billion by 2023. For leaders of large hospitality organizations, the options for online or virtual training can be dizzying. Team members need ongoing training, and traditional training methods don't always provide the ROI that hoteliers need to support the cost.
Passive learning techniques like webinars, classroom training, and watching videos provide the least opportunity for learning retention. Audio-visual learning may only result in 20 percent learning retention, according to the National Training Laboratories. This means a very low ROI for these training methods. On the contrary, active learning methods—such as role playing, peer-to-peer learning, and practicing/rehearsing—boost learning retention up to 90 percent. Consider athletes, pilots, and actors who practice as part of their job. They become successful because they are utilizing active learning. And, that proficiency increases their ability to improve their performance because they adopted new behaviors. This is what science calls muscle memory. Thank goodness pilots have muscle memory for when an engine ever goes out mid-flight!
Below are six considerations for hospitality leaders when determining the best e-learning platform for their organizations.
1. The #1 gap in employee skills is communication, according to research conducted by LinkedIn. Be sure to find an engaging online platform that is role-based and provides plenty of practice and rehearsal opportunities. Even better, find one that eliminates the humiliation of role-playing with an audience. And, most importantly, avoid having employees practice with customers.
2. Most customer interactions happen over the phone—92 percent with 85 percent of customers reporting dissatisfaction with their phone experience, based on research by Salesforce. Be sure to craft scripts for employees that are role- and scenario-based.
3. Millennials will make up 75 percent of workers by 2025, according to Brookings. This is a powerful statistic because this generation expects to have development opportunities available to them at work, adapts to new technology, and enjoys collaborating virtually.
4. ROI from e-learning can range between $30 and $50 return for every $1 spent. Companies that use e-learning tools and strategies have the potential to boost productivity by up to 50 percent based on an IBM report. If you're not providing e-learning as part of your onboarding and development plan for staff, you may find you have higher-than-necessary turnover rates. Lack of on-demand and reinforcement training can cost your organization plenty.
5. "To stay relevant, your company and employees must keep learning," wrote Pat Wadors in a recent article in Harvard Business Review. He also points out that the only way for organizations to ensure their workforces are fully productive and able to achieve business goals is to make sure employees are continuously learning. Give your team a training platform that puts development in their hands.
6. On average, organizations spend up to $1,886 per person per year on training, according to The Training Industry Report, and only 20 percent of employees receive training annually. E-learning can reduce training costs by more than 50 percent and provides a solution for potentially 100 percent of employees to receive training.
E-learning at its core is about solving problems and keeping individuals and organizations relevant. The research is clear: the right e-learning solution can help increase savings and productivity. Good luck. It's worth it!